Past National President Jean Burlingame
National Patriotic Instructor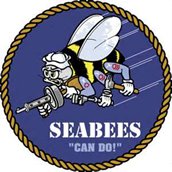 This month we honor the United States Seabees. We wish them a happy 71st birthday on March 5th.
When the United States officially entered World War II, the use of civilian labor had to stop. Under international law civilians were not permitted to resist enemy military attack. If they did they could be executed as guerrillas.
On December 28, 1941, Rear Admiral Ben Moreell, Chief of the Bureau of Yards and Docks (BUDOCKS), requested specific authority to activate, organize, and man a unique, very special organization that would support the Navy and Marines in remote locations and defend themselves if attacked — the Naval Construction Battalions. On January 5, 1942, he was given that authority and the original Battalions were formed at a new Naval base in Davisville, Rhode Island.
On March 5, all Construction Battalion personnel were officially named Seabees by the Navy Department. Their motto is Construmus Batumius, or We Build, We Fight and their logo, the Fighting Bee, was created by a Rhode Islander at Davisville.
The Navy built their Battalions with experienced, highly skilled craftsmen … electricians, carpenters, plumbers, equipment operators — virtually any construction or building trade was welcome in the Seabees. Seabee units were quickly engaged in construction and combat. They have served in Guadalcanal, Normandy, Korea, Antarctica, Vietnam, Desert Storm/Desert Shield, and Beirut, Iraq & Afghanistan. From the island-hopping of World War II, the cold of Korea, the steaming jungles of Vietnam, the deserts of the Middle East, Seabees have built cities, paved thousands of roads, and constructed numerous airstrips in the four corners of the world.
Seabees also conduct humanitarian missions worldwide, including earthquake and hurricane recovery efforts in the United States.
The true spirit of the Seabees is their "Can Do" philosophy. It's a timeless belief representing Seabees past, present, and future. The Seabee Museum and Memorial Park is in North Kingstown, Rhode Island.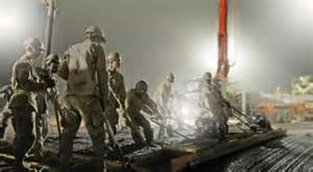 patrioticinst@bluestarmothers.org